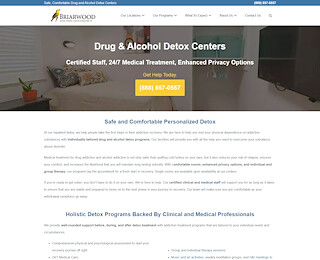 Escaping addiction isn't as easy as most people think. Substance addiction is an extremely aggressive and debilitating condition with severe long-term consequences. To recover and heal safely, you need to look for a reliable Houston detox center, and Briarwood Detox Center in Austin & Houston offers just that.
The success of the rehab treatment also depends on you in large part. Here are three things you can do to ensure fast, reliable, and successful rehabilitation from addiction:
1. Acknowledge the problem and understand the treatment's necessity
Many people come to our Houston, TX, detox center under their loved one's pressure, without being convinced that they actually need it. They only join the rehab to please their families but end up relapsing after the treatment for obvious reasons. If you want your drug and alcohol detox in Houston, TX, to be a success, you need to overcome your denial and embrace the treatment.
It will save your life so long as you allow it to. We recommend speaking with a counselor or a professional interventionist about the risks of untreated long-term addiction and recovery benefits.
2. Choose your detox facility wisely
You have many Houston detox facilities to choose from, but not all of them operate under the same quality standards. You need to settle for a reliable detox center that can meet your needs and preferences. Our facility ranks among the most notable in the business, thanks to its unique detox and treatment approach. Some of the perks our centers offer include:
Patient-oriented detox
Phone screening and in-person clinical assessment and diagnosis prior to treatment
Targeted medication for effective and safe detoxification
Dual diagnosis treatment via medication and therapy
Various recovery programs, including individual and group therapy, art therapy, family support, H&I Meetings, etc.
Top amenities
Luxurious living quarters with comfortable rooms and privacy, etc.
All these perks will contribute to the recovery's success as they will improve your comfort and safety during the treatment. Choosing your detox facility carefully will cut your recovery efforts in half, which is why it's such a critical point to consider.
3. Extensive follow-up treatment
You must keep in mind that not even the best detox for addiction in Houston cannot guarantee long-term sobriety and relapse prevention. If you lack a solid foundation for sobriety and healthy living after detox, you won't be able to change your lifestyle in any meaningful way. This is what's causing many patients to relapse soon after completing the detox treatment. We always recommend follow-up residential care to all our patients completing our detox program.
Our clinicians will put you in contact with reputed rehabilitation facilities providing inpatient and outpatient services to help you recover and remain sober over the years. If you need life-changing drug and alcohol detoxification today, contact our Houston detox team immediately!
At Briarwood Detox Center in Austin & Houston, we promote health, sobriety, and self-sufficiency as tools against addiction and relapse. Call our counselors at 832-850-4318, and let's discuss your payment and treatment options!