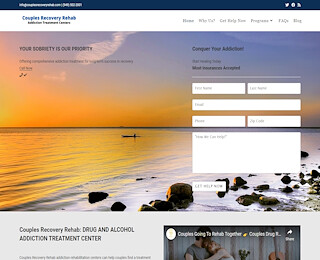 If you're dealing with substance addiction or have someone in your family who does, you should consider joining our couple rehab program today. At Couples Recovery Rehab, we promote holistic healing and recovery in a safe and controlled environment for immediate recovery.
How to join the rehab program
If you're experiencing withdrawal and have made up your mind about joining the rehab, the process is fairly simple and fast. You only need to call our rehab specialist and provide them with the necessary information, and we'll handle the intake process from that point onward. Our expert may ask for various information about your situation, including the substance you're using, medical history and mental health issues, withdrawal intensity, symptoms, etc.
If your partner experiences withdrawal symptoms regularly, you may need to intervene to help them overcome their problem. They may not be able to get sober and join the rehab without your moral and spiritual support along the way. We recommend discussing the issue with them calmly, with a positive attitude, so that you can reach a consensus easier. If you can't get through them, contact our experts to help you set an intervention asap.
The intervention consists of strategic discussion meetings, in the presence of a rehab professional, aiming to convince the addict of the rehab's necessity. We'll make all arrangements necessary to ensure the best outcome as fast as possible.
Why professional rehab is essential for couples
We believe that our program for couple rehab is essential for helping patients overcome their substance addiction effectively and rebuild their family lives in the process. Studies show that whenever the addict's loved ones join the rehab process, their moral and spiritual support can significantly influence the patient's recovery. We have devised the most effective rehabilitation program at our center, focusing on guided healing, community reintegration, and personalized therapies for long-term benefits.
Our treatment's goals include:
Helping the patient overcome the withdrawal safely, in a controlled setting
Providing medical and psychiatric support for co-occurring disorders
Promoting a healthier daily routine regarding nutrition, physical workout, and positive mental activity
Supporting healthier couple and family relationships
Teaching long-term relapse prevention strategies
Helping patients develop healthier daily routines over time, etc.
Our rehab program is essential for couples because it helps them solve their problems and rebuild their lives together. This will contribute to an even stronger emotional and spiritual bond since they will overcome their issues as a family.
Sign in the best drug and alcohol rehab program
If you're dealing with advanced addiction, you need to seek medical assistance right away. Substance addiction is a progressive and chronic illness, with severe long-term consequences in the absence of proper medical and psychiatric treatment. If your partner deals with the same problem, our couple rehab program is the ideal place to begin your recovery.
Call Couples Recovery Rehab, speak to our addiction expert, and let's find a solution to our problems together! This is your opportunity to achieve your dreams and quit addiction for good.